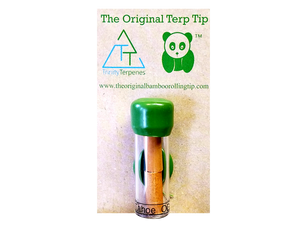 The Original Terp Tip™ - Tahoe OG
Regular price $10.00 Sale
The Original Terp Tip™ - Tahoe OG
1 for $15, 3 for $40, and 5 for $55
Profile Modulations Include - Focus, Stress, Depression, Pain, Headaches, Fatigue...

The Original Terp Tip™ is our bamboo tip augmented with Cannabis-Derived Cultivar/Strain-Specific Terpenes.
* All-Natural
* Grown and Hand Crafted in the USA
* Cannabis-Derived Cultivar-Specific Terpenes
* Legal Worldwide
* Acts as Rolling Aid
* 2 - Terpenes Infused Tips per Vial
* Patented - USPTO

Flower profiles provided via Leafly
https://www.leafly.com/hybrid/tahoe-og
4 - More Cannabis-Derived Profiles to Choose from:
The Original Terp Tip™ ACDC/PineappleExpress
The Original Terp Tip™ - Blueberry OG

The Original Terp Tip™ - Jet Fuel
The Original Terp Tip™ - Strawberry AK
FOOD AND DRUG ADMINISTRATION (FDA) DISCLAIMER – These statements have not been evaluated by the Food and Drug Administration (FDA). These products are not intended to diagnose, treat, cure, or prevent any disease.